Donald Trump and Kim Jong-un have become the first sitting US president and North Korean leader to meet, an unprecedented development after a year of exchanging threats.
The pair shook hands at a luxury hotel in Singapore's Sentosa island before proceeding to talks.
Mr Trump said "a lot of progress" was made, and said he would soon attend a signing ceremony with Mr Kim.
They have been discussing defusing tensions and nuclear disarmament.
However, it is unclear what document the two leaders would be signing.
Analysts are split on what the summit will achieve. Some see it as a propaganda win for Mr Kim, others a potential path to peace.
How the historic moment unfolded
The two men walked towards each other and firmly gripped each other's hands in front of US and North Korean flags.
Mr Trump patted Mr Kim's arm as they stood on red carpet and exchanged a few words before turning to face the gathered press.
The US president predicted a "terrific relationship" with the North Korean leader.
"I feel really great. We're going to have a great discussion and will be tremendously successful," Mr Trump said.
Sitting alongside each other, ahead of a one-on-one meeting, the pair appeared relaxed against the odds.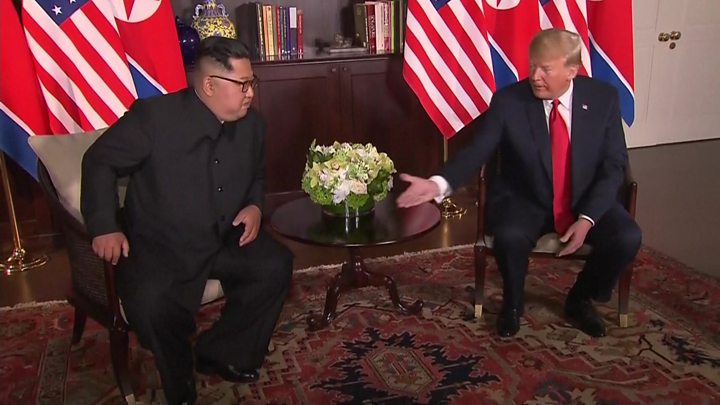 "It was not easy to get here," Mr Kim said. "There were obstacles but we overcame them to be here," and his counterpart responded "That's true."
The two men, accompanied only by interpreters, spoke for a little under 40 minutes. They were then joined by small delegations of advisors for a working lunch.
Powerful symbol but challenges remain
The flags of the two countries were placed side by side, the handshake was carefully choreographed – just as it would have been with any other nation. But North Korea is not any other nation. It remains secretive, its weapons remain hidden, and its unelected leader has been accused of violating his people's human rights.
For South Koreans, watching Donald Trump and Kim Jong-un shake hands is a stunning moment. They've endured decades of tension and division and these two men appeared to be on the brink of war last year.
The meeting lasted only 38 minutes which doesn't bode well for any substantial agreement. But whatever announcement is made, this historic image is a powerful signal that their relationship has changed. But as they celebrate this opportunity, the key problem remains.
Mr Kim has yet to commit to demands to disarm. He has also managed to get what he wanted. He secured a meeting with the president of the United States because he had built up a powerful nuclear arsenal. The optics further legitimise his regime.
This may look like a momentous start. But huge challenges remain.
Kim's journey from outcast to statesman
For decades, North Korea has been a pariah state, and now its latest hereditary leader is being treated as a world statesman.
Last year, it would have been a rare sight to see a North Korean flag flying anywhere in Asia.
Now, Mr Kim – who runs a totalitarian regime with extreme censorship and forced-labour camps – is meeting and greeting dignitaries.
Tuesday's front page of North Korea's official newspaper featured the extraordinary scenes on display in Singapore, offering many in the country and unprecedented glimpse of their leader in a setting utterly at odds with their daily life.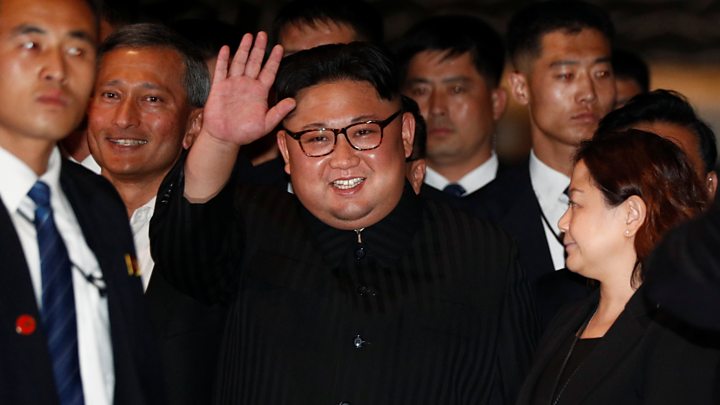 What will the talks cover?
The US wants North Korea to get rid of its nuclear weapons in an irreversible manner that can be verified by the international community.
Mr Pompeo said the US would only accept "complete, verifiable and irreversible denuclearisation" – but would offer "unique" security guarantees.
But analysts question why Mr Kim would give up his nuclear weapons after pushing so hard to get them.
A formal end to the Korean war may also be discussed. The 1950-53 conflict ended with a truce, not a final peace treaty. Mr Trump says signing a peace agreement would probably be "the easy part".
How did we get here?
This is an outcome that seemed unimaginable less than a year ago – when Mr Trump and Mr Kim exchanged streams of fiery insults – and North Korea conducted several ballistic missile tests in defiance of the international community.
Mr Trump famously vowed to unleash "fire and fury" if Pyongyang kept threatening the US. Meanwhile, Mr Kim has called Mr Trump "mentally deranged" and a "dotard".
But earlier this year North Korea showed a new openness to diplomacy and held direct talks with Seoul. The rapid improvement in relations between the North and South Korea – technically still at war – culminated with a historic leaders' summit in April.
During this warming of relations between the two Koreas, Mr Trump stunned the world by accepting an invitation to meet Mr Kim.
But the road to the Singapore talks has been far from smooth.
The lead-up to the summit has been marked by uncertainty and waves of frenetic diplomacy – at one point, Mr Trump even briefly called off the summit.
What happens now?
The one-on-one discussion lasted less than 40 minutes and as Mr Kim is due to leave Singapore at 14:00 local time (06:00 GMT), there is some doubt over the level of detail that may be contained in any final statement.
It's unclear what we can expect from here but reports yesterday suggested that negotiators were far from an agreement that would mark a significant shift.
On the eve of the summit, Mr Kim toured Singapore's tourist sites, waving to excited crowds and snapped a selfie with the city state's foreign minister.